---
| | |
| --- | --- |
| Journal title | Manajemen, Bisnis dan Ekonomi |
| Initials | MANISE |
| Abbreviation | Jou. Man.Bis.Eko |
| Frequency | 2 issues per year (March and October) |
| DOI | 10.26798 |
| ISSN | 2964-5417 |
| Editor-in-chief | Sur Yanti, S.E., M.Sc.  |
| Publisher | Fakultas Manajemen dan Bisnis - UTDI |
| Citation Analysis | Google Scholar| Sinta | Garuda |
---
 MANISE  "Management, Business and Economics"  Journal is a scientific journal published by the Faculty of Retail Business Management, Universitas Teknologi Digital Indonesia in collaboration with the Institute for Research and Community Service (LPPM) at the Universitas Teknologi Digital Indonesia (dh STMIK AKAKOM) Yogyakarta, Indonesia. MANISE covers papers original, unpublished, and peer-reviewed research. Submissions must be original and have not been previously published. Submission for publication in this journal assumes that the work is considered unpublished elsewhere and has not been reviewed by another publication. All items undergo a thorough evaluation process by all ethical guidelines to maintain the highest publication standards.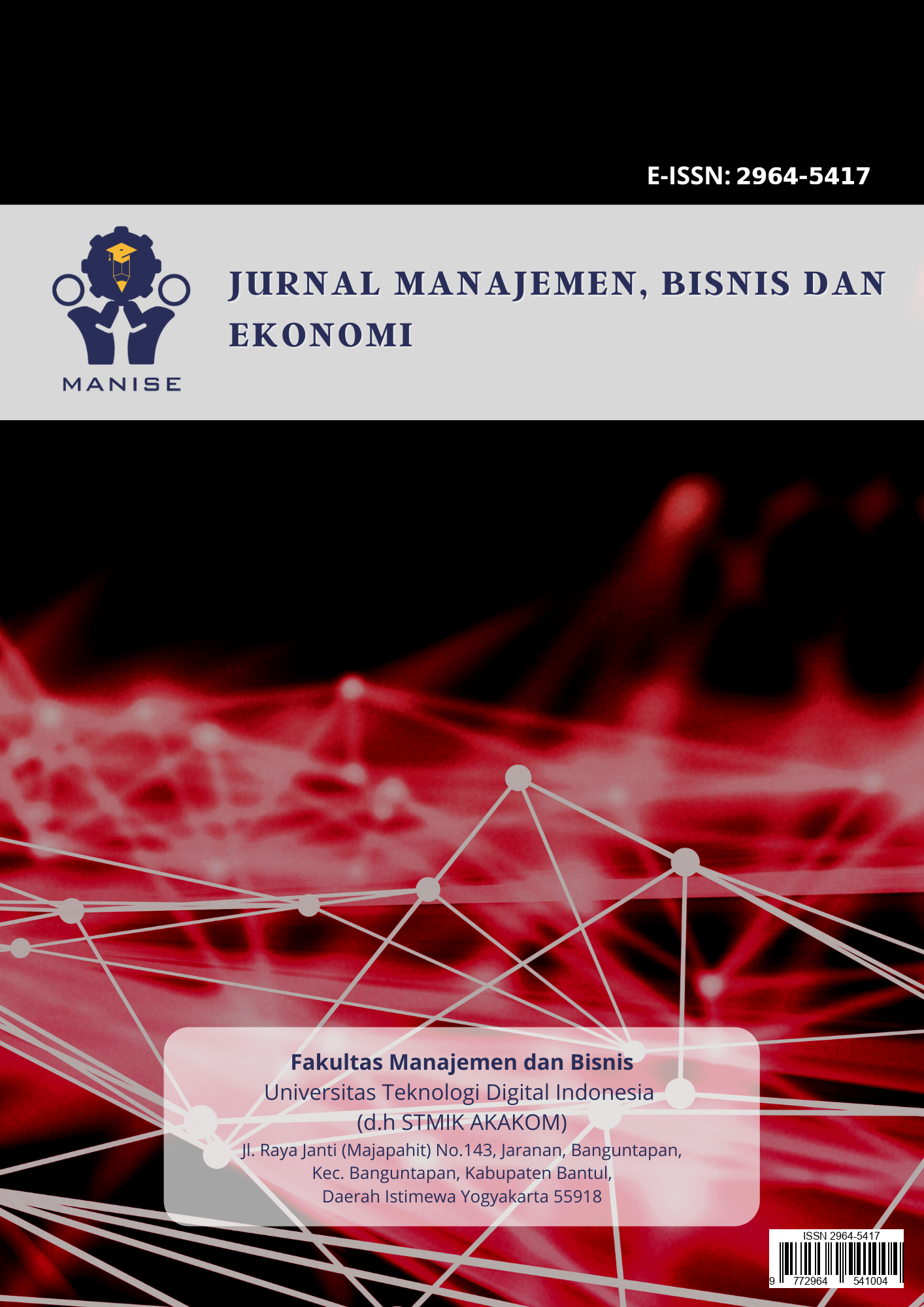 The MANISE team will strictly check the suitability and originality of the manuscripts to be published. Authors should refer to MANISE Journal for format and style of writing (Please download and use it as a template for initial submission of manuscripts with 2 supplement files. This will ensure fast processing and publication. Any paper that does not meet the requirements under the author guidelines will not be processed.
Please, make sure you have filled out and attached the"Form Pengawasan Artikel" which you can download at the following link, and submit it as a supplement file to your article.
--------------------------------------------------------------------------------
MANISE Index By.
Vol 1, No 2 (2023): Maret 2023
Table of Contents
Articles