Focus and Scope
JIKO (Jurnal Informatika dan Komputer) is a scientific journal published by Lembaga Penelitian dan Pengabdian Masyarakat of Universitas Teknologi Digital Indonesia (d.h STMIK AKAKOM) Yogyakarta, Indonesia.  First published in 2016 for a printed and online version. We receive original research articles and any review papers.

The aims of JIKO are to disseminate research results and to improve the productivity of scientific publications. JIKO is published in February and September with the scopes and focus of the research areas that are:
Software Engineering,
Information Systems, 
Computer Science Applications, 
Computer Networks and Communications, and 
Artificial Intelligence.
Section Policies
Articles
| | | |
| --- | --- | --- |
| Open Submissions | Indexed | Peer Reviewed |
Peer Review Process
Every article that goes to the editorial staff will be selected through Initial Review processes by Editorial Board. After that, the articles will be returned to the authors for revision. Then, the articles will be sent to at least 2 (two) peer reviewers and will go to the next selection by Double Blind Peer Review Process. Reviewers do not know the identity of the authors, and authors do not know the identity of reviewers either. After that, the articles will be returned to the authors for revision. These processes take a month (four weeks) for a maximum time. In each manuscript, peer reviewers will be rated on the substantial and technical aspects. Peer reviewers who collaborate with JIKO are the experts in the informatics area and issues around it. The reviewing process will consider novelty, objectives, method, scientific impact, conclusion, and reference They were experienced in the prestigious journal management and publication that was spread around the nation and abroad.
The steps for the reviewing process are in the following figure.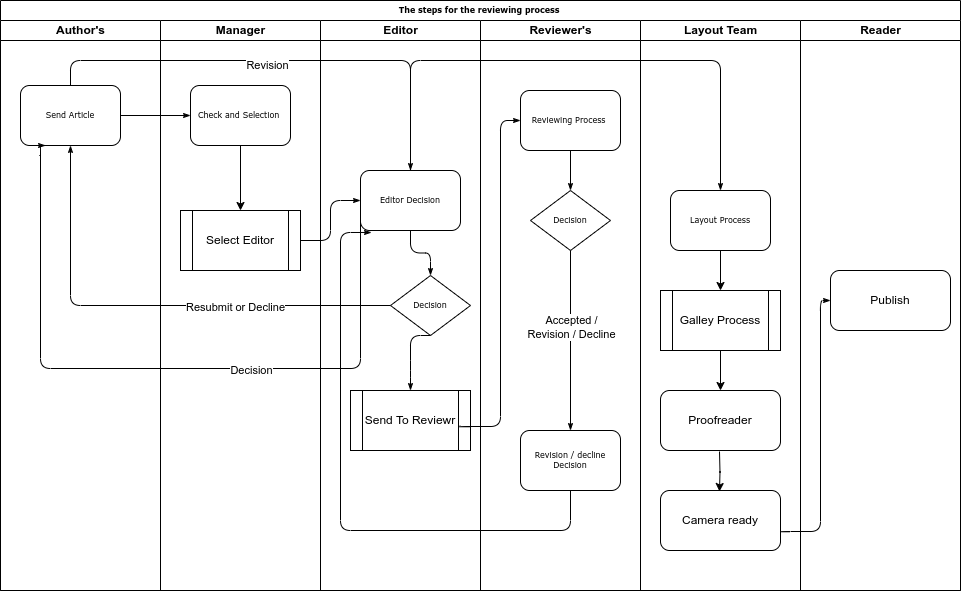 In short, the steps are:
Manuscript Submission (by author)
Manuscript Check and Selection (by manager and editors). Editors have a right to directly accept, Decline, or review. Prior to further processing steps, a plagiarism check using Turnitin or other plagiarism tools is applied for each manuscript.
Manuscript Reviewing Process (by reviewers)
Notification of Manuscript Acceptance, Revision, or Rejection (by editor to author based on reviewer's comments).
Paper Revision (by author)
Revision Submission based on Reviewer Suggestion (by author) with a similar flow to point number 1. 
If the reviewer seems to be satisfied with the revision, notification for acceptance (by editor).
The editor assigns the manuscript to the layout team.
Galley proof and publishing process.
Publication Frequency
Jurnal JIKO (Jurnal Informatika dan Komputer) published twice a year in two times issues, Number 1-2 are scheduled for publication: February and September
Open Access Policy
This journal provides immediate open access to its content on the principle that making research freely available to the public supports a greater global exchange of knowledge.
Benefits of open access for the author, include:
Free access for all users worldwide
Authors retain copyright to their work
Increased visibility and readership
Rapid publication
No spatial constraints
Archiving
This journal utilizes the LOCKSS system to create a distributed archiving system among participating libraries and permits those libraries to create permanent archives of the journal for purposes of preservation and restoration. More...
Publication Ethics
Here are the deal and ethical standards for all parties involved in scientific publications, such as editor, reviewer, and author.
1. DUTIES OF EDITORS
Editor of the Journal of JIKO is responsible for taking decisions manuscripts will be published in the Journal of Infotel. The editor can be guided by the policy of the editorial board and constrained by the requirements of applicable laws regarding defamation, copyright infringement and plagiarism. Editors can discuss with other editors or reviewer in making this decision.
Fair Play
Editors will evaluate the manuscripts in accordance with the intellectual content without regard to race, sex, sexual orientation, religion, ethnicity, nationality, or political philosophy of the author
Confidentiality
The Editor and editorial staff should not provide any information about  a submitted manuscript to someone other than the corresponding author, reviewers, potential reviewers, other editorial advisers, and the publisher, as appropriate.
Conflict of interest
The materials that are not published in a submitted manuscript may not be used for the editor's own research without the express written consent of the author.
2. DUTIES OF REVIEWER
Contribution to Editorial Decisions
The review process may assist the auditor in making editorial decisions and through the communication between editor with the author will assist the author in improving the manuscript.
Promptness
Any selected referee who feels unqualified to review the research reported in a manuscript or knows that its prompt review will be impossible should notify the editor and excuse himself from the review process.
Confidentiality
Each manuscript has been accepted for review must be treated as confidential documents. The manuscript should not be shown or discussed with others except with permission from the editor.
Standards of Objectivity
The review should be conducted objectively. Personal criticism of the author is not allowed. Reviewers must show clearly the results of the assessment along with supporting arguments.
Acknowledgement of Sources
Reviewers should identify relevant published work that has not been cited by the authors. Any statement that an observation, derivation, or argument had been previously reported should be accompanied by the relevant citation. A reviewer should also call to the editor's attention any substantial similarity or overlap between the manuscript under consideration and any other published paper of which they have personal knowledge.
Conflict of Interest
Unpublished material contained in the manuscript must not be used for the reviewer's own research without the written permission of the author. Special information and ideas obtained through a review process should be kept confidential and not used for personal purposes. Reviewers should not consider manuscripts that have a conflict of interest due to a script that is competitive, collaborative, or other relationships with one of the authors, or a company involved with the script.
3. DUTIES OF AUTHOR
Reporting Standard
Authors of reports of original research should present an accurate account of the work performed as well as an objective discussion of its significance. The main data to be represented accurately in the script. The manuscript should contain sufficient detail and references that allow others to do the research again. Fraudulent or knowingly inaccurate statements constitute unethical behavior and are unacceptable.
Data Access and Retention
The author was asked to provide the raw data associated with the text for editorial review process and should be prepared to provide public access to such data , if practicable, and should in any event be prepared to retain such data for a reasonable time after publication.
Originality and Plagiarism
The authors should ensure that they have written entirely original works, and if the authors have used the work and/or words of others that this has been appropriately cited or quoted.
Multiple, Redundant or Concurrent Publication
An author should not, in general, publish manuscripts describing essentially the same research in  more than one journal or primary publication. Submitting the same manuscript to more than one journal concurrently constitutes unethical publishing behavior and is unacceptable.
Acknowledgment of Sources
Proper acknowledgment of the work of others must always be given. Authors should cite publications that have been influential in determining the nature of the reported work.
Authorship of the Paper
Authorship should be limited to those who have made a significant contribution to the conception, design, execution, or interpretation of the reported study. All those who have made significant contributions should be listed as co-authors. Where there are others who have participated in certain substantive aspects of the research project, they should be acknowledged or listed as contributors. The corresponding author should ensure that all appropriate co-authors and no inappropriate co-authors are included on the paper, and that all co-authors have seen and approved the final version of the paper and have agreed to its submission for publication.
Disclosure and Conflicts of Interest
All authors should disclose in their manuscript any financial or other substantive conflicts of  interest that might be construed to influence the results or interpretation of their manuscript. All sources of financial support for the project should be disclosed.
Fundamental errors in published work
When an author discovers a significant error or inaccuracy in his/her own published work, it is the author's obligation to promptly notify the journal editor or publisher and cooperate with the editor to retract or correct the paper.
Screening for Plagiarism
Before going to the review process, all manuscripts will be checked that they are free from plagiarism practice (less than 25% similarities). If there is an indication of plagiarism (higher than 25% similarities), the manuscript will instantly be rejected.
Statistic Download Article
Statistic download using ALM Plugin, statistic will show on every article page.
Author Fees
This journal charges the following author fees.
Article Submission: 0.00 (IDR)
Fast-Track Review: 0.00 (USD)
Article Publication: 00.00 (IDR)
The author will get the full PDFs, for articles that are published successfully.