---
| | |
| --- | --- |
| Journal title | JIKO (Jurnal Informatika dan Komputer) |
| Initials | JIKO |
| Abbreviation | J. Inf. dan Komputer |
| Frequency | 2 issues per year (February and September) |
| DOI | Prefix 10.26798 |
| ISSN | 2477-3964  (Online), 2477-4413 (Print) |
| Editor-in-chief | Rikie Kartadie |
| Publisher | Lembaga Penelitian dan Pengabdian Masyarakat - Universitas Teknologi Digital Indonesia (d.h STMIK AKAKOM) |
| Citation Analysis | Google Scholar| Sinta | Garuda |
---
JIKO (Jurnal Informatika dan Komputer) is a scientific journal published by Lembaga Penelitian dan Pengabdian Masyarakat (LPPM) of Universitas Teknologi Digital Indonesia (d.h. STMIK AKAKOM) Yogyakarta, Indonesia. JIKO covers research original paper that has not been published and have been through a peer-reviewed journal. JIKO published twice a year in two times issues, Number 1-2 are scheduled for publication: February and September.
Submissions must be original and have not been previously published. Submission for publication in this journal assumes that the work is considered unpublished elsewhere and has not been reviewed by another publication. All items undergo a thorough evaluation process by all ethical guidelines to maintain the highest publication standards. The JIKO team will strictly check the suitability and originality of the manuscripts to be published. The authors must refer to JIKO Journal for writing format and style (Please download and use as a template for initial manuscript submission in .DOC, .DOCX or LATEX. This will ensure fast processing and publication. Any papers not fulfilling the requirements based on the guideline of authors will not be processed.
---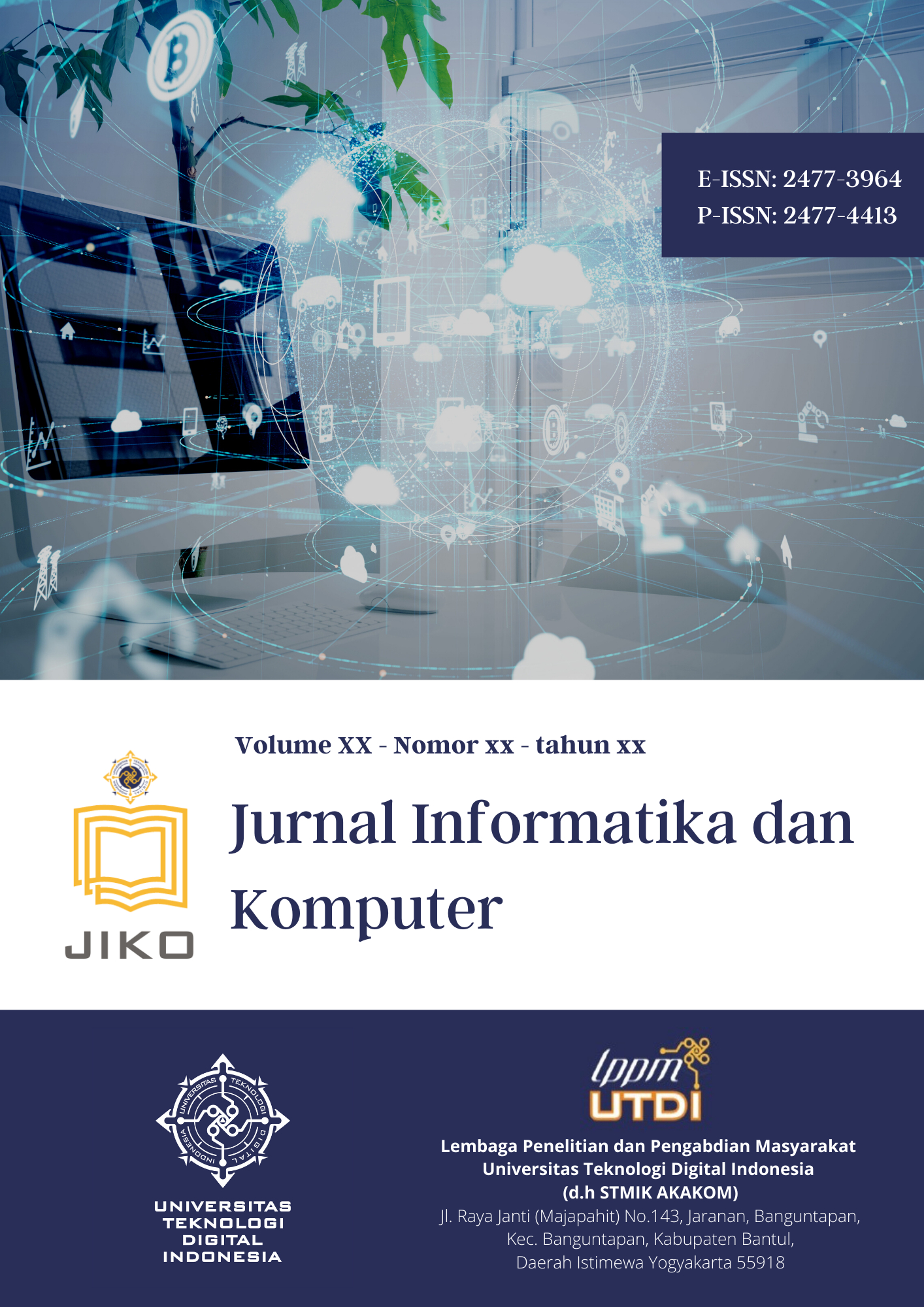 JIKO is accredited by the Indonesian Ministry of Research and Higher Education at Sinta S4 level, according to the Decree of Direktorat Penguatan Riset dan Pengembangan SK Nomor 34/E/KPT/2018 which is valid since December 2018 for 5 years.
JIKO Indexed by:
Announcements
ReBorn: We are Reborn

We apologize to the loyal readers and authors of JIKO, because of technical problems that we could not avoid, our journal experienced problems in publishing articles. But we have been able to overcome these problems well and appear fresher.
We will start republishing your quality articles in February 2022 and will publish regularly on a predetermined schedule, namely February and September.
Thank you for the support and trust in our journal.

Posted: 2022-01-14
More...
Vol 5, No 1 (2020): FEBRUARI - AGUSTUS 2020 (IN PRESS)
Table of Contents
Articles